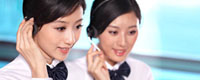 Name: jessica
Tel: +86-371-86536986
Fax: +86-371-55030233
Mobile: +86-13526716702
E-mail: info@cyflaser.com
E-mail: cyflaser@126.com
E-mail: jessica@cyflaser.com
Add: 10th Floor,5th Unit,Zuoan International , Huayuan Road ,Jinshui District, Zhengzhou,Henan,China




How does the treatment feel?
Skin Rejuvenation (SR) uses IPL (Intense Pulsed Light) to lighten brown pigmented areas caused by sun damage, age spots or freckles. These IPL ...

More>>
More>>
To appreciate the old and new customers, In June We company promote a series of concessions activities, welcome advice!...
More>>
Between hair removal treatments the only thing that is recommended is shaving. Waxing, threading or tweezing should be stopped all together prior and during any hair removal procedures.
Af...
More>>
Total: 7
Page: 1 / 1
First
←Previous
Next→
End